Hybrid / Fitness
Hybrids are fun on and off the road
Arguably the most versatile of all the bike categories, one way you can think of them is as a middle point or a combination of road and mountain bikes. Some brands refer to their hybrids as Fitness bikes but are the same thing. Hybrids typically use a 700C wheel size, sometimes 26"; their gearing can range from 21 to 30 speeds depending on the quality of the bike. Hybrids are excellent bikes for riding in urban environments and are also able to handle light off-road trails. Hybrids put the cyclist in a position that is comfortable to most since it is not aggressive but not too relaxed either; Because of the versatility offered by hybrids most people tend want these kind of bikes especially if they aren't exactly sure of what kind of riding they will be into in the long run. A Tread Bike Shop staff member will be happy to assist you with any questions or concerns regarding a specific model. Depending on the model, hybrids can be compatible with higher quality mountain or road components to increase the performance of the bike. the specific parts will be discussed in a the hybrid sub categories.
Cannondale Quick 6 & Cannondale Quick 4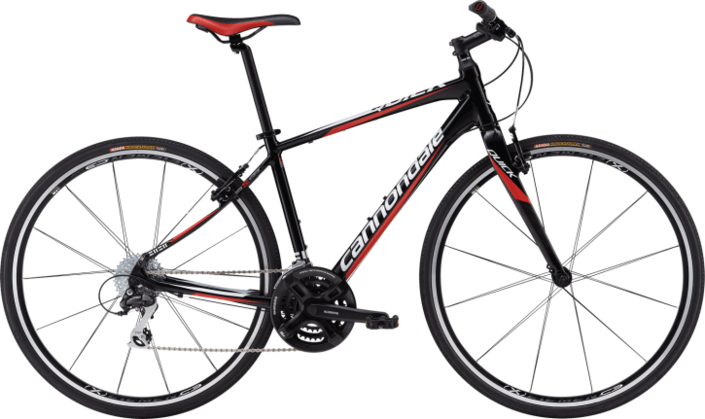 These are older models but they will suffice to explain the differences from entry level and something a little better. To have a clear difference we're going to discuss the Cannondale Quick 6 and Quick 4. Visually the bikes don't look very different, as a matter of fact the frames are the same but there are many changes to the components on the 2 bikes. The primary differences are the gear shifters, cassette, chain, fork and the wheels. Although both bikes have Shimano Altus components, the Quick 6 only has 24 speeds while the Quick 4 has 27. In order to increase the amount of gears that the bike has it was necessary to change the shifter, cassette and the chain. Another change is the wheels, the Quick 6 has a Cannondale brand 700C 32-spoke wheel while the Quick 4 comes with Xero star crossed wheel. The Xero star wheel has 24 spokes and is double walled and is laced in a way that retains the wheel strength while making the bike lighter. Finally the last and possibly the biggest difference between the two bikes is the fork. The Quick 6 has a chromoly fork while Quick 4 has a carbon fiber fork; the carbon fiber fork is much lighter and offers many benefits to the rider.
Sport Hybrids
More like a Road Bike
This is the Specialized Sirrus Elite Disc this bike is a higher-level version of the base model Specialized Sirrus, many things have been changed on this bike to make its performance more similar to that of a road bike. The Frame is made of carbon and has been redesigned similar to the Specialized Roubaix a popular endurance road bike made by specialized. The fork has also been changed to the Specialized Fact fork with the embedded Zerts to dampen impacts and vibrations; this fork was also originally designed for the Specialized Roubaix. The Carbon Sirrus Elite is also equipped with the Shimano Tiagra Drivetrain, which is an entry-level road bike group set. The carbon Sirrus Elite disc has many qualities of a road bike but it is still in fact a hybrid, all of these features listed above increase the bikes performance through increased speed and comfort but the positioning of the rider has not been altered from that of a regular hybrid. It still has a flat handle bar and the rider is still in a semi aggressive position.
More Like a Mountain Bike
This is the Specialized Cross Trail elite Disc; this bike is also a sport hybrid only this one is geared towards being similar to a mountain bike. The first thing you'll notice is that it has a suspension fork in the front, this is meant to absorb bumps and vibrations when riding off road. The drive train on this bike is equipped with Shimano Deore a group set made for mountain bikes. Although disc brakes have become common to many types of bikes they are still most common on mountain bikes. The position has also changed to become a tad bit more upright similar to that of a mountain bike. One major factor that keeps this bike a hybrid is the wheel size; it is still using a 700c wheel. Although mountain bikes are available in 29er wheels and that is similar to a 700c as far its diameter the width and specifications of the two wheels are still different.
Comfort Hybrid
Comfort is top priority
This is a Raleigh Detour 3.5; it is a comfort hybrid. It is a hybrid that is primarily designed to be comfortable above all else. The geometry of the frame has been designed to allow the cyclist to ride the bike comfortably from an upright position and still maintain control of the bike. Comfort hybrids usually have handle bars elevated greatly to further increase the rider's upright position. Comfort hybrids usually have something called a granny gear built into the drive train of the bike. A granny gear is a cog that is several sizes bigger than the cog before it on the cassette, this creates a gear that is extremely easy to pedal so that it is much easier to go up a hill. Comfort hybrids also have the option of coming in a step through version.
Easy to get on and off
These are sometimes referred to as women's cut because they allow for easy mounting of the bike while wearing a dress; but the step-through is also great for anybody who may have a hip or back problem and may be unable to mount a normal bike.
Commuter Hybrids
A More Enjoyable Commute
Sometimes people will refer to a hybrid as a commuter bike because they intend to use it to travel to and from work. The truth is a commuter bike is pretty much any hybrid that has been fitted with fenders and a rack; most hybrids are compatible with both fenders and a rack so its easy to turn most hybrids on hand into a commuter bike. The example above is a Jamis commuter 2
Click here to see our Hybrids.
Click here to see our Fitness bikes.